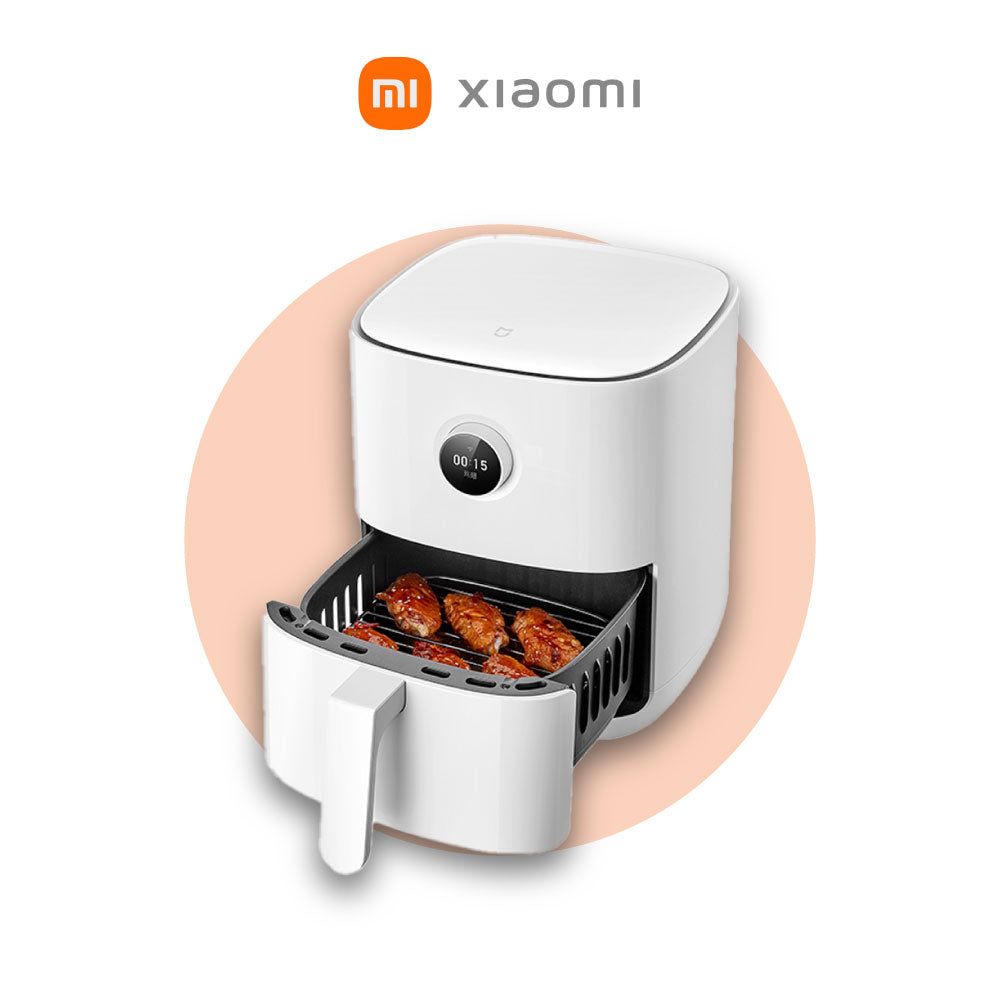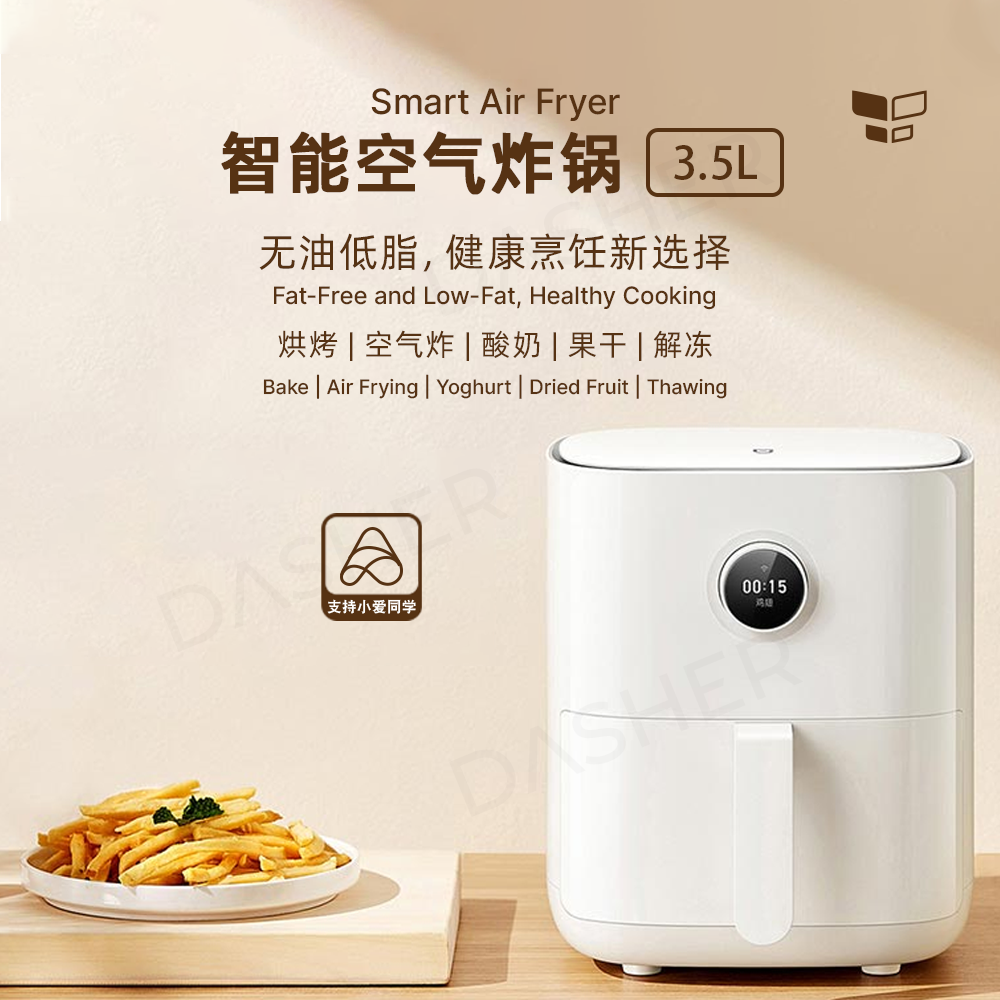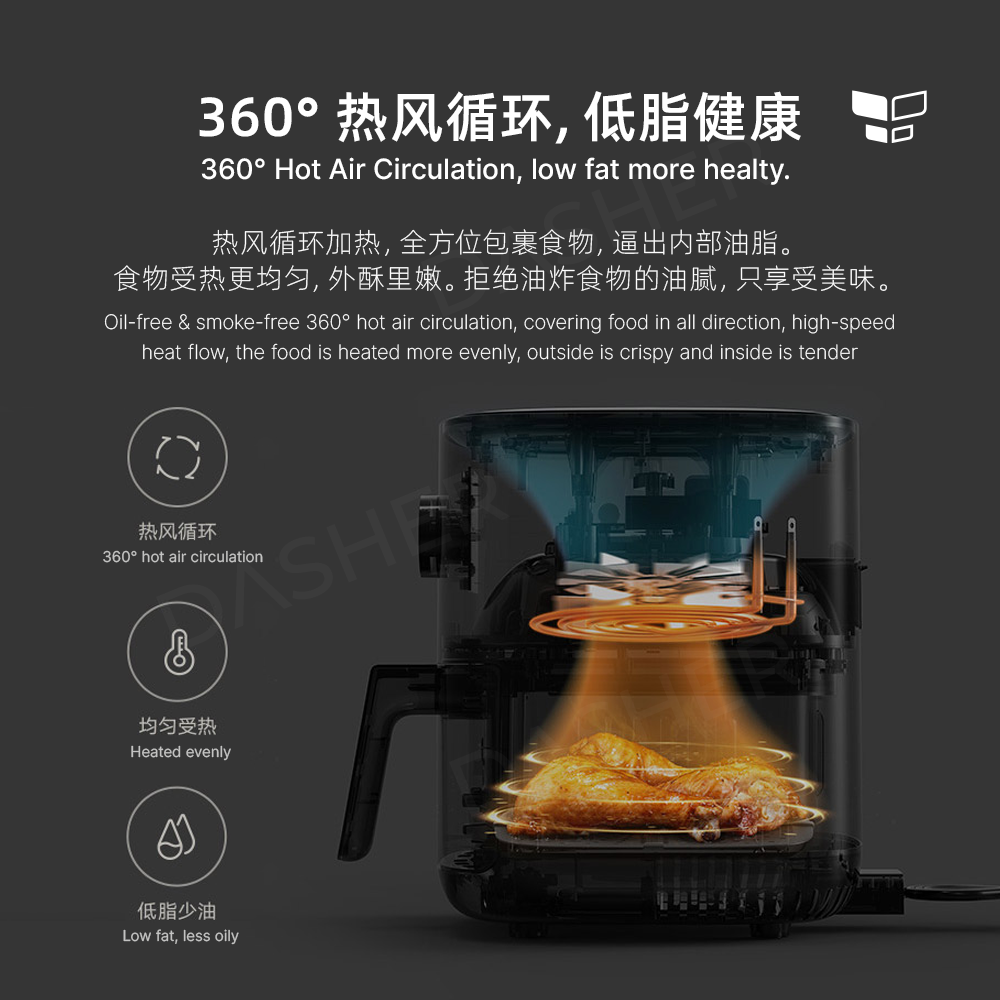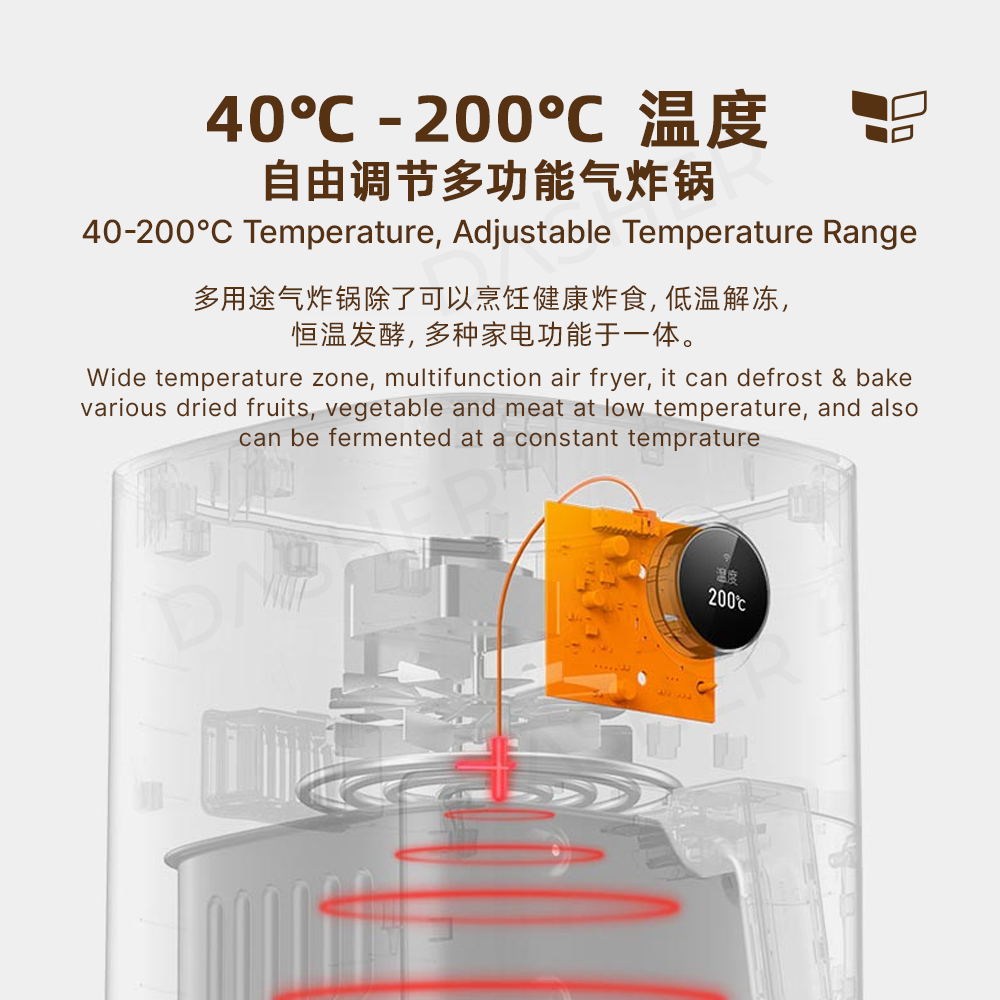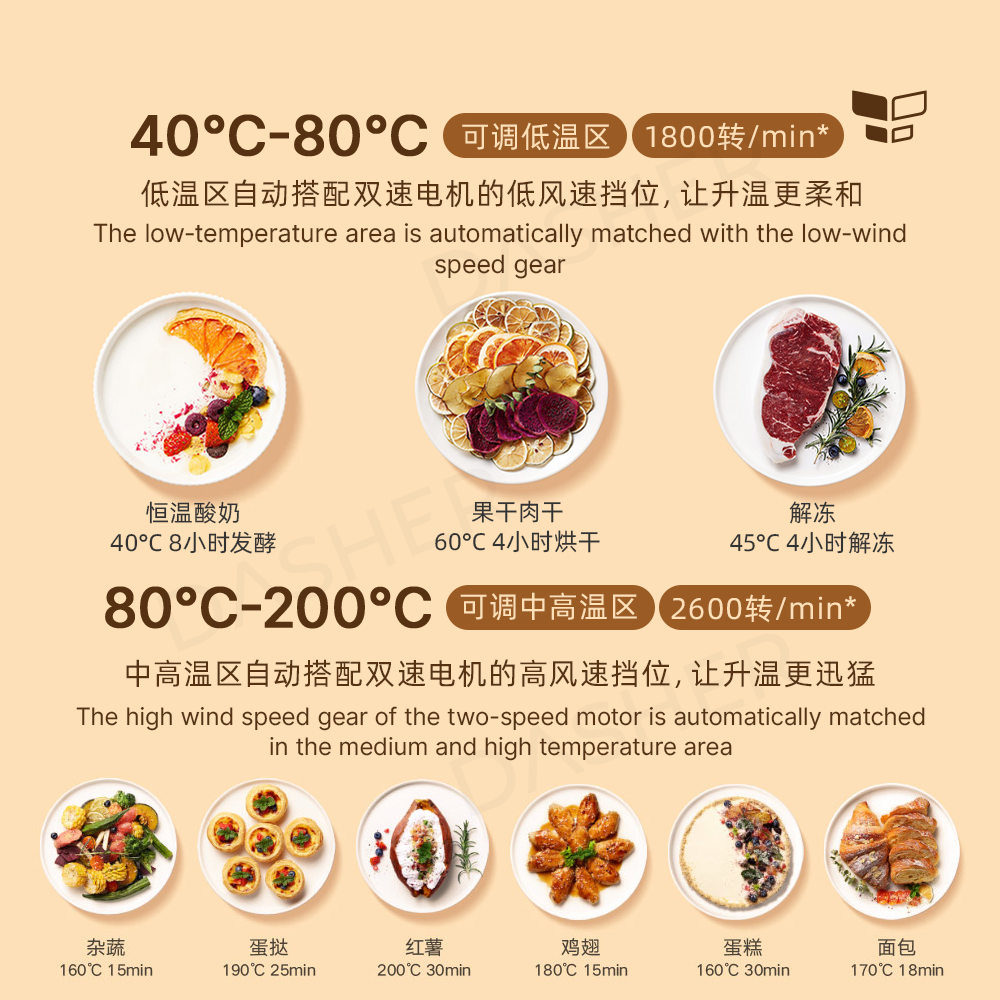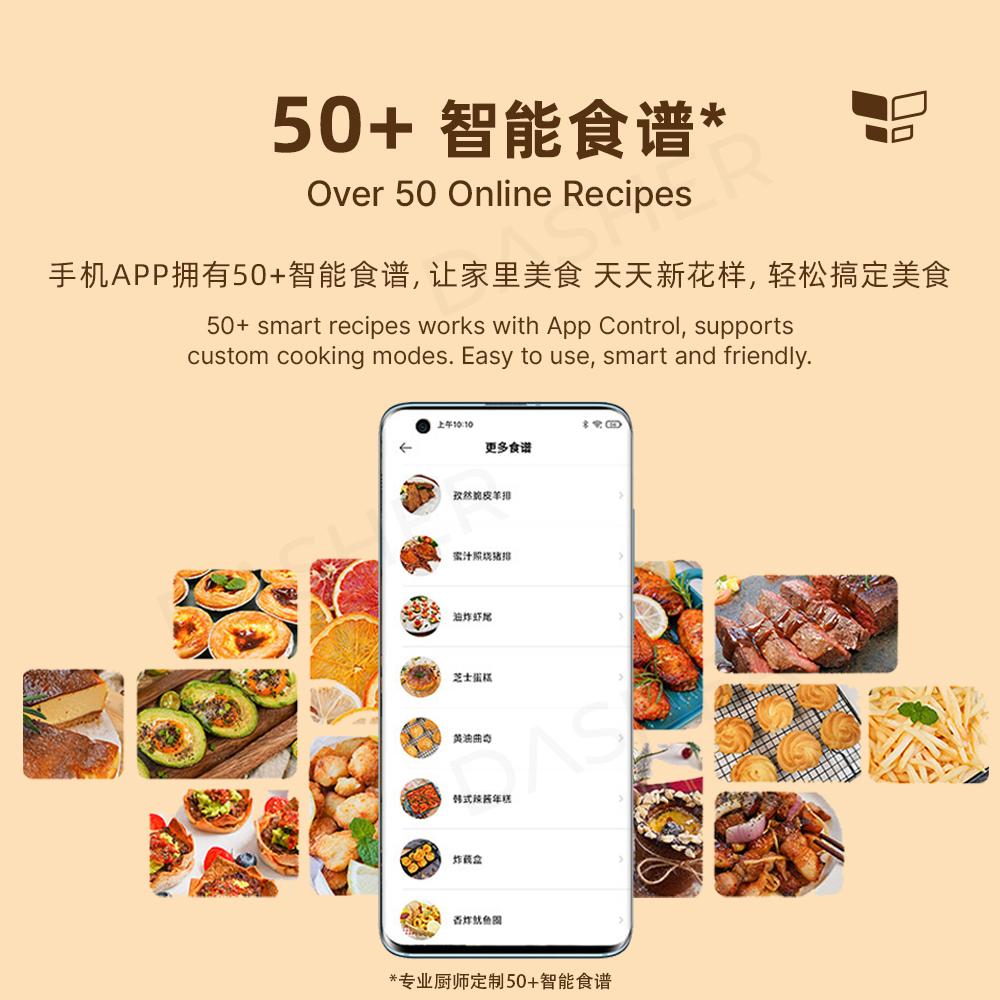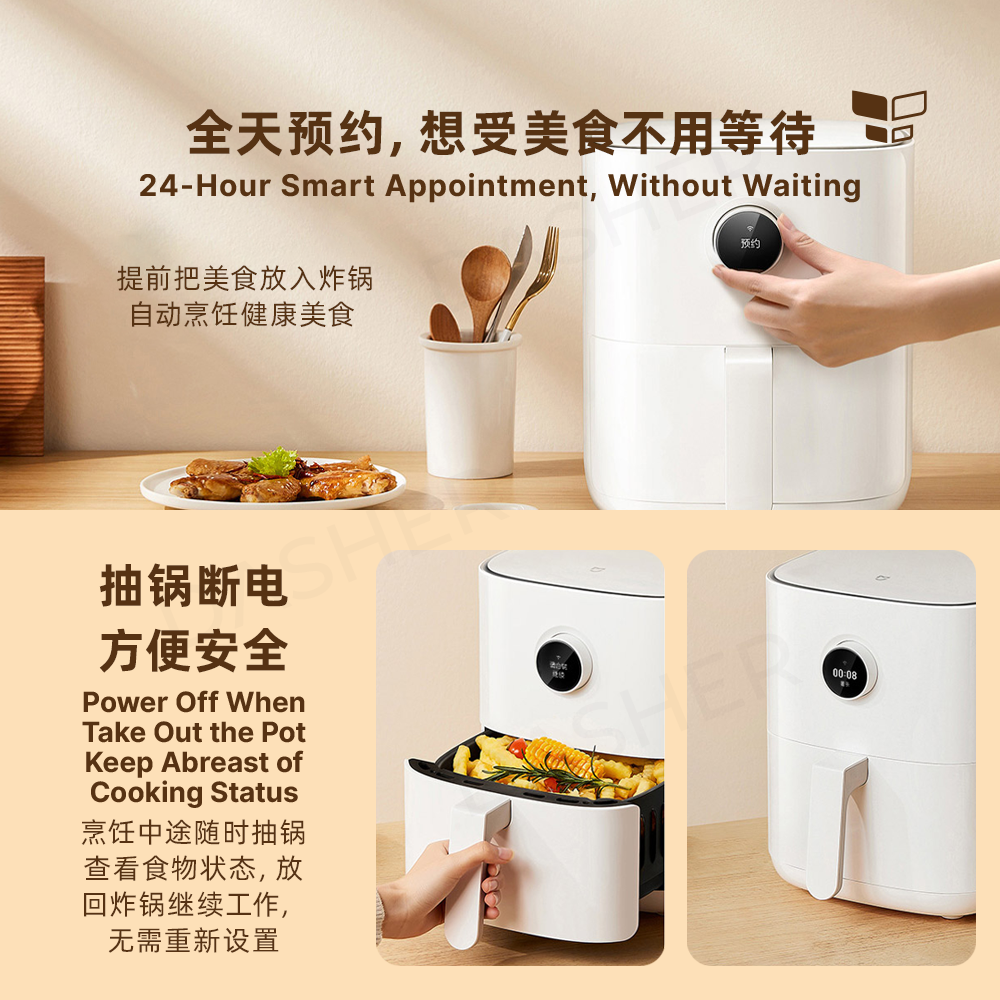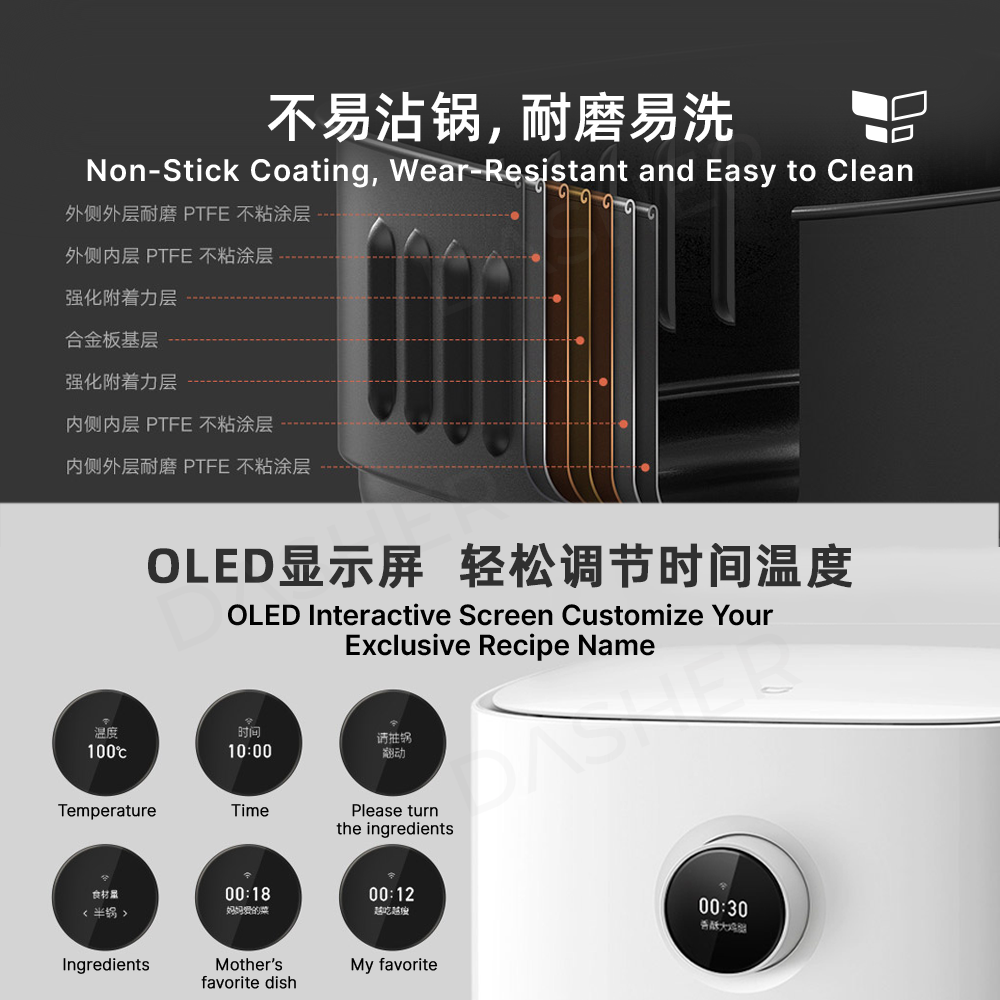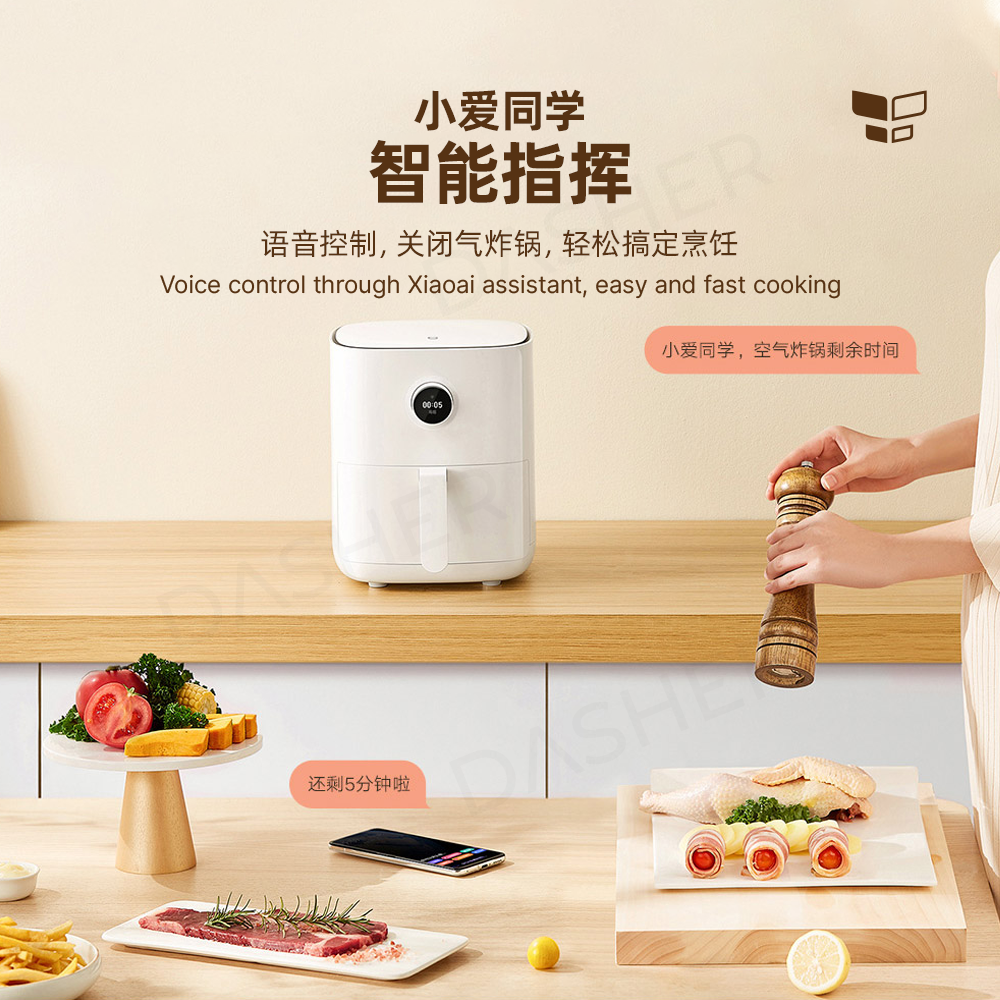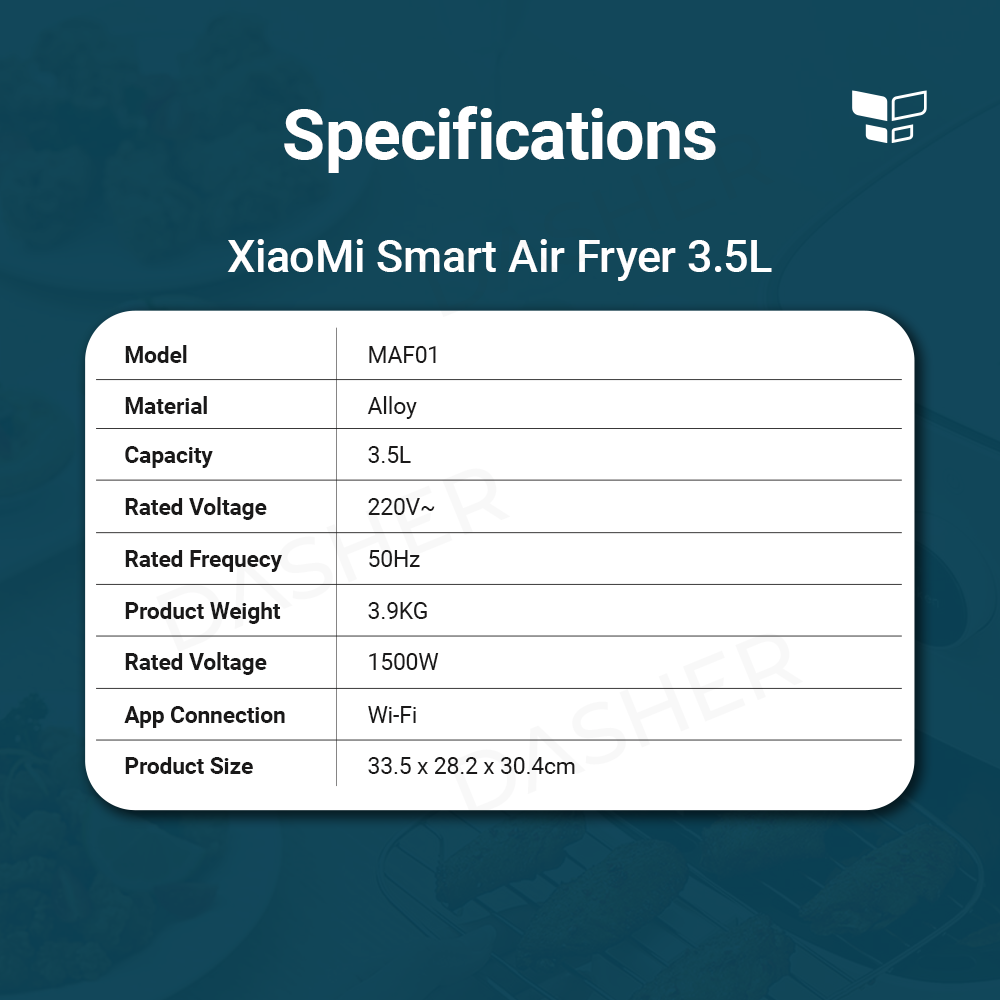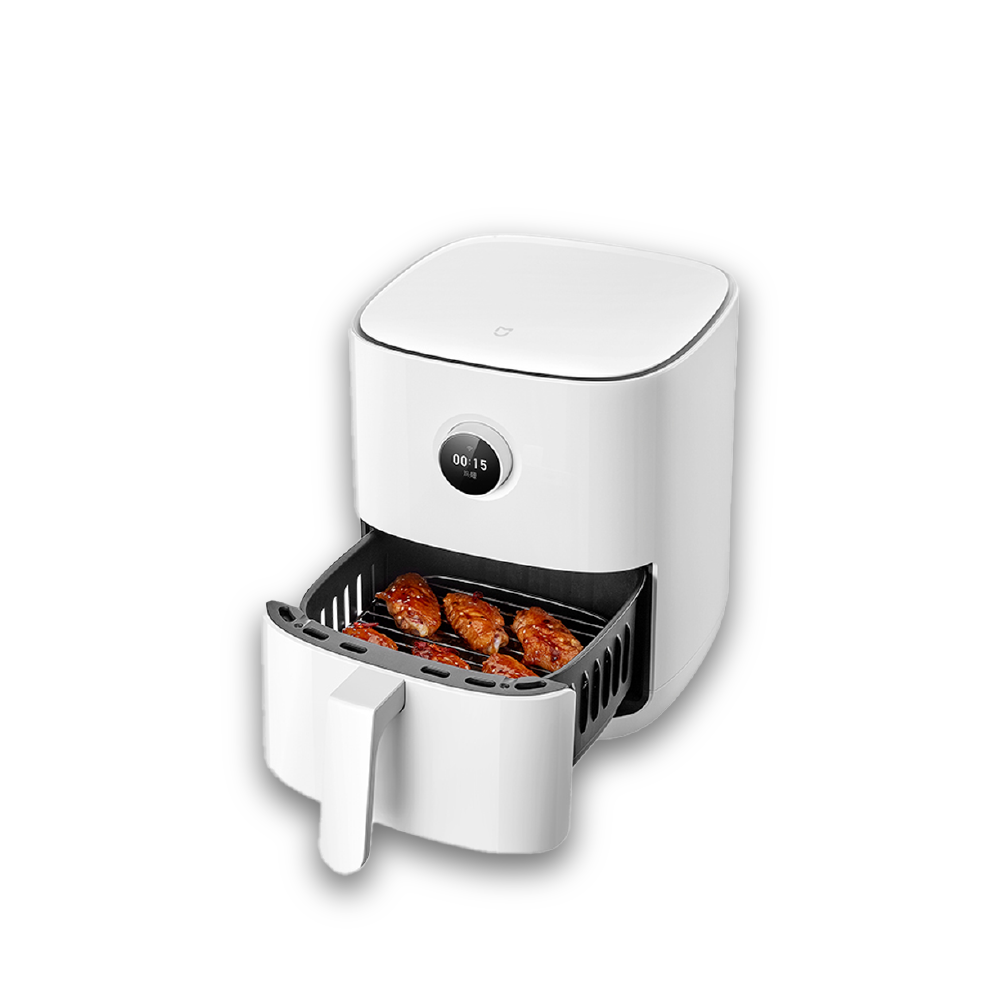 Xiaomi Mi Smart Air Fryer 米家空气炸锅 (CN Version)
HIGHLIGHTS

【Ready Stock + 1 Year Warranty】
【3.5L Large Capacity】Can fit an entire chicken or make enough food for a family of 5.
【360° Hot Air Circulation】To ensure the food is heated evenly and more crispy taste like a fryer but just using little oil. 
【Adjustable Temperature Range】It can be adjusted in a wide temperature range of 40-200°C from defrost, fermentation, baking, air frying, and even can be used as a yogurt maker too! 
【24 Hours Appointment Function】You can set an appointment time to schedule cooking. Like just in time when u reached home from work, then you can get a hot and crispy fried chicken to eat. Yum ~
【Over 50 Online Recipes】Support MIJIA app (Region: China) connection with users to access over 50 recipes or make custom cooking mode.
【Smart Control】Support voice control through Xiaoai assistant to control and schedule cooking.
【Non-Stick Coating】Easier to Clean.
【Auto Power Off】Automatically power off if the pan is removed and continue immediately the pan is slid back in without any need to restart the fryer.

🧒:妈咪~我想吃KFC炸鸡🍗,薯条🍟,nugget🍖。

外面的食物那么多油,而且黄金食物拥有很多反式脂肪,吃多不仅发胖,还对身体不健康
有了小米智能气炸锅机,自己在家动手做的不仅健康,还有家的味道🥰

卖點

【Dasher 1 年保家+由本地24小时内发货】
【3.5L 超级大容量】可以轻松settle一家五口的分量, 而且FREE 🎁专属烤架,拿来烤鸡翼啊,蛋挞啊,天妇罗啊,easy easy ~
【使用360° 热风循环】无需添加任何的油就可以炸出Krupp krupp 声的炸鸡nugget,健康又美味
【40°C-200°C 自由调节温度】除了拿来炸食物,还可以拿来解冻发酵食物,像yogurt啊,烤果干啊,解冻牛排啊,它都可以做到
【智能调节时间】放工回家才煮的话, 小孩都饿到呱呱叫liao, 还好提前放入锅,有的set timer, 回来就煮好了,超级方便~
【50+ 智能食谱】吃炸鸡吃到sien了?打开米家APP发掘新食谱,天天新menu,煎炸烘烤样样有
【小爱同学智能指挥】离厨房很远? No problem,order 小爱同学, 叫她帮你off气炸锅,轻松搞定烹饪
【不易沾锅,耐磨易洗】使用7层复合锅篮,双层PTFE食品接触级不粘涂层不止耐用好看,还安全健康
【抽锅断电,方便安全】煮到一半要check食物 熟了没,抽出直接断电,关回继续操作,不用重新set过,非常方便
Model: MAF01
Material: Alloy
Capacity:3.5L
Rated Voltage: 220V~
Rated Frequecy: 50Hz
Product Weight: 3.9KG
Rated Voltage: 1500W
App Connection: Wi-Fi
Product Size(cm): 33.5 x 28.2 x 30.4
1 x Air Fryer
1 x Grill Rack (FREE🎁)
1 x 3 Pin Plug (FREE🎁)
1 x User Manual
No English. SAD

Can't change the language to English. Need to google translate & memories the menus. Manual also in Chinese.
Not seller's fault and they do mention in the description about this product. Appreciated
But overall this fryer functional, perfect shape & love its clean look.
Product quality

Wow! I'm surprised with the build quality! This thing looks slick! I haven't had the time to try it out myself yet cause it's a Mother's Day. Open to check only. Thank you seller! I received in 2 days later.
Well packaging

Function well,packing in very good condition,try to fry some chicken,its taste just like we frying with oil,recommended!!
Love the product and fast delivery

Product are good, seller sent the product very fast too. I received this product within 1 day!
Finally I have my air fryer to explore more food during MCO.!