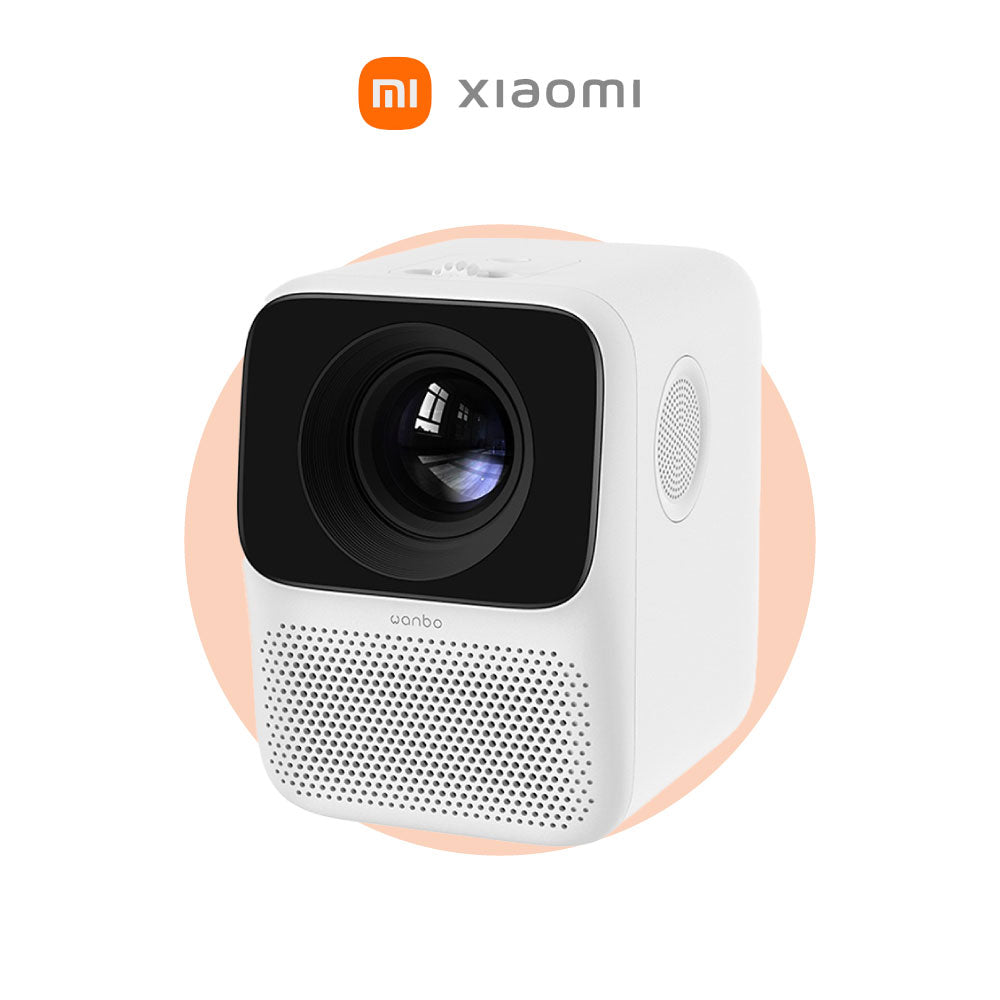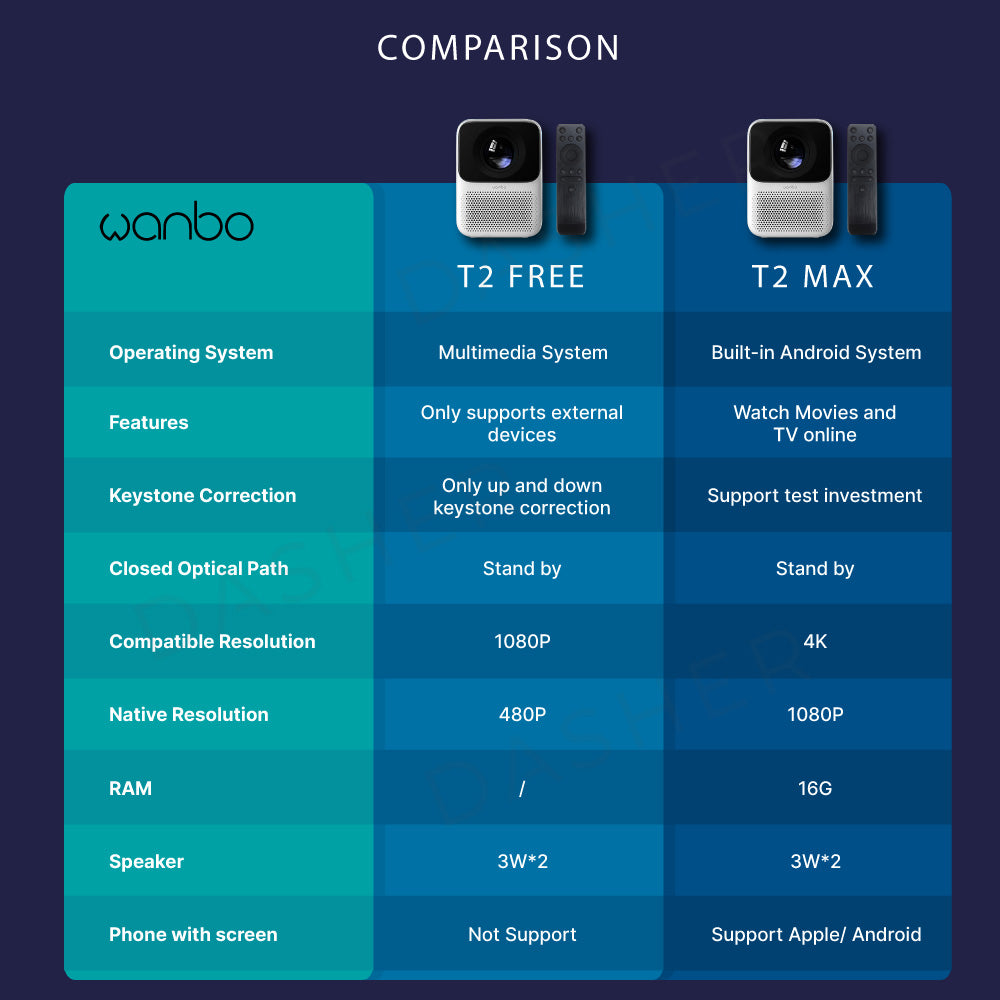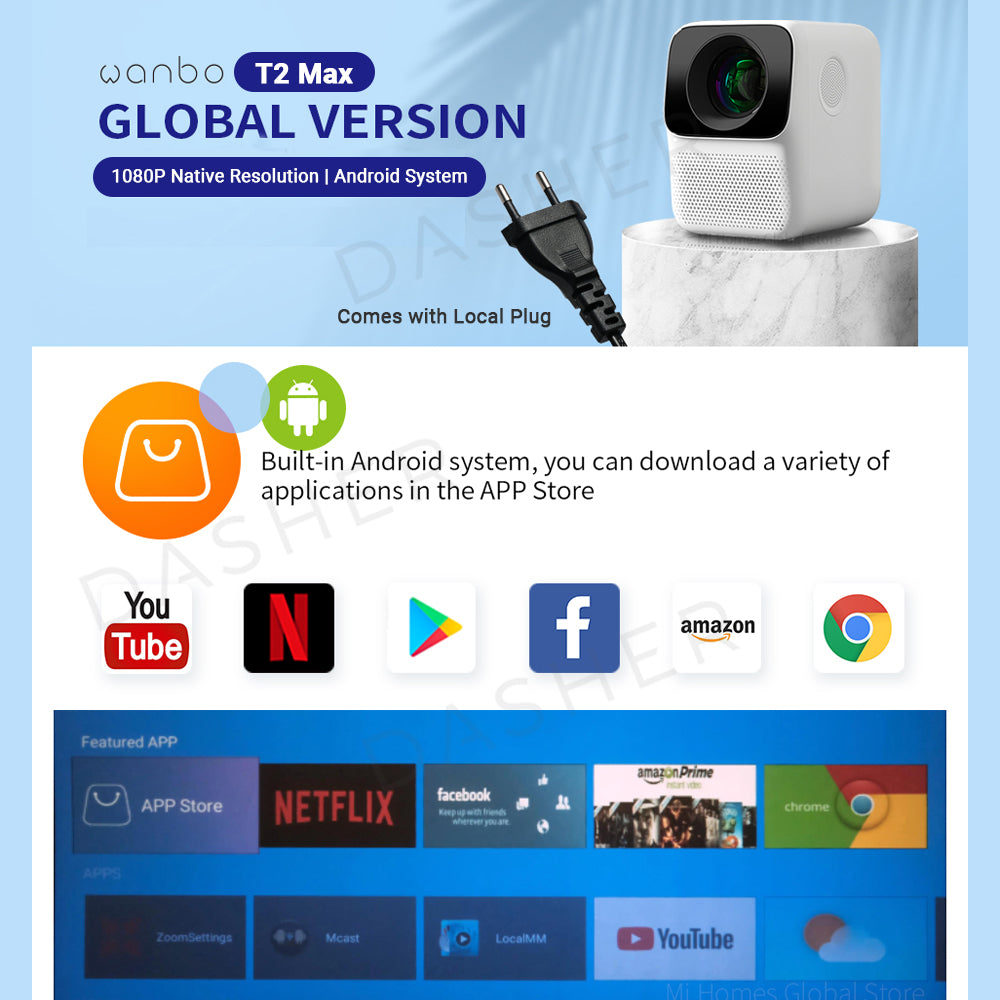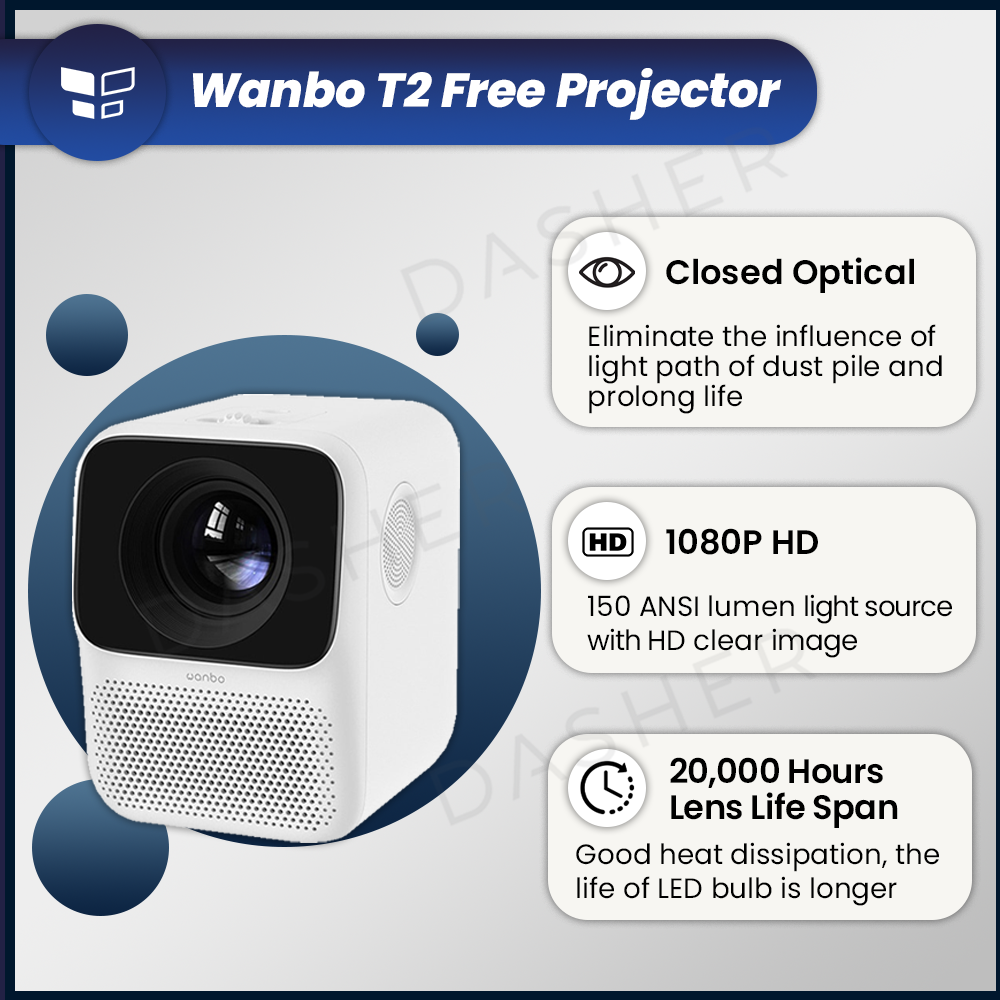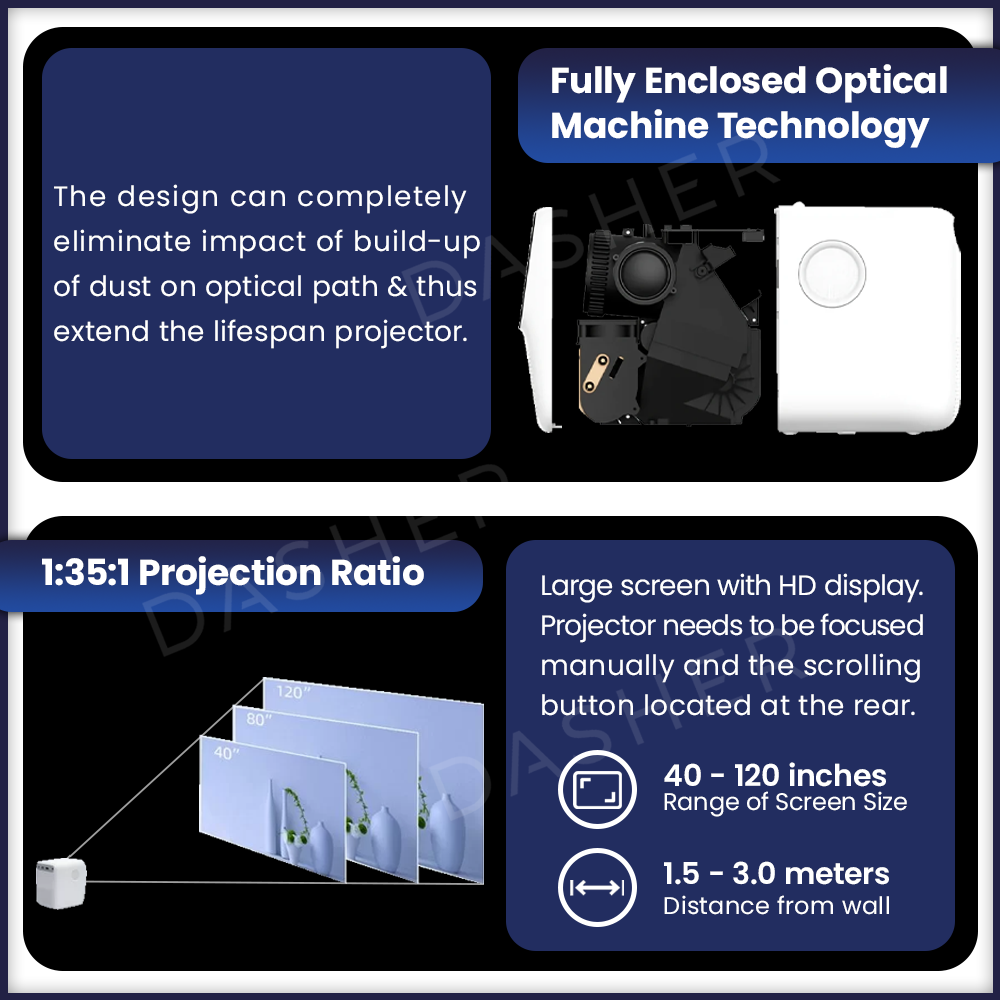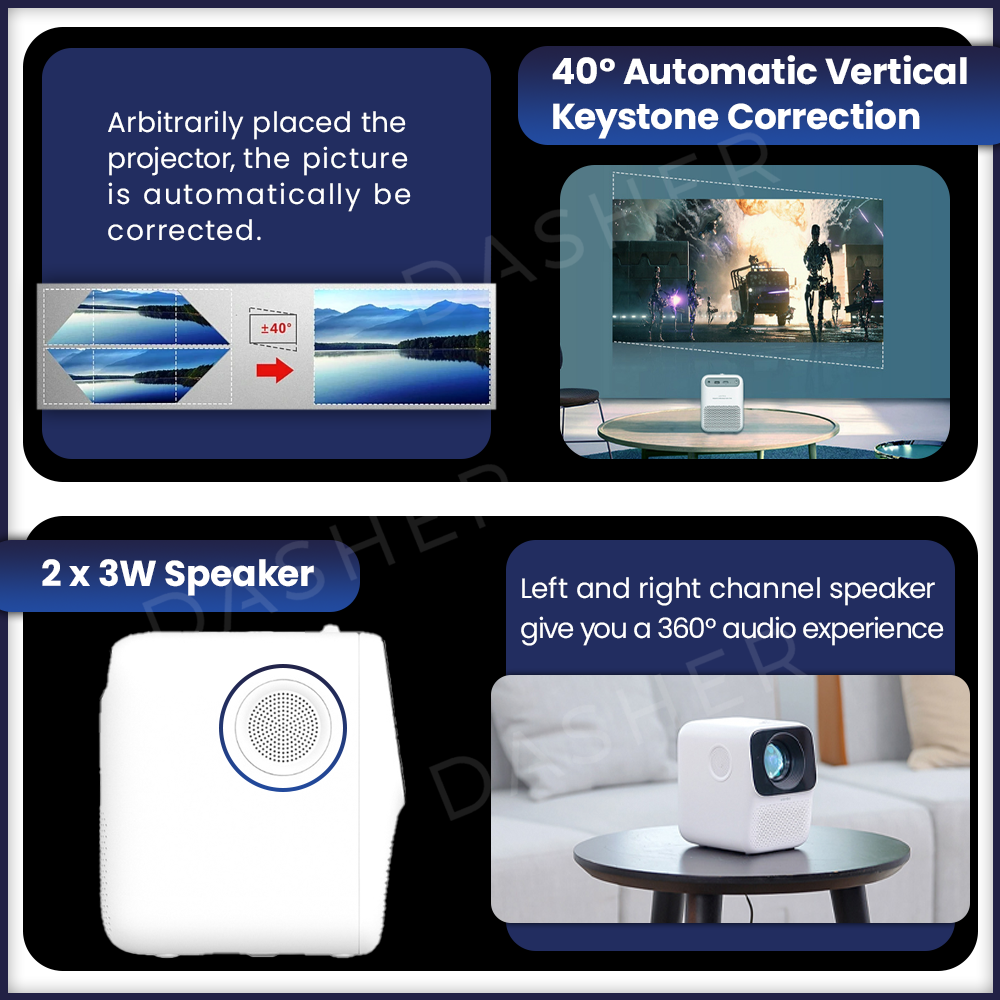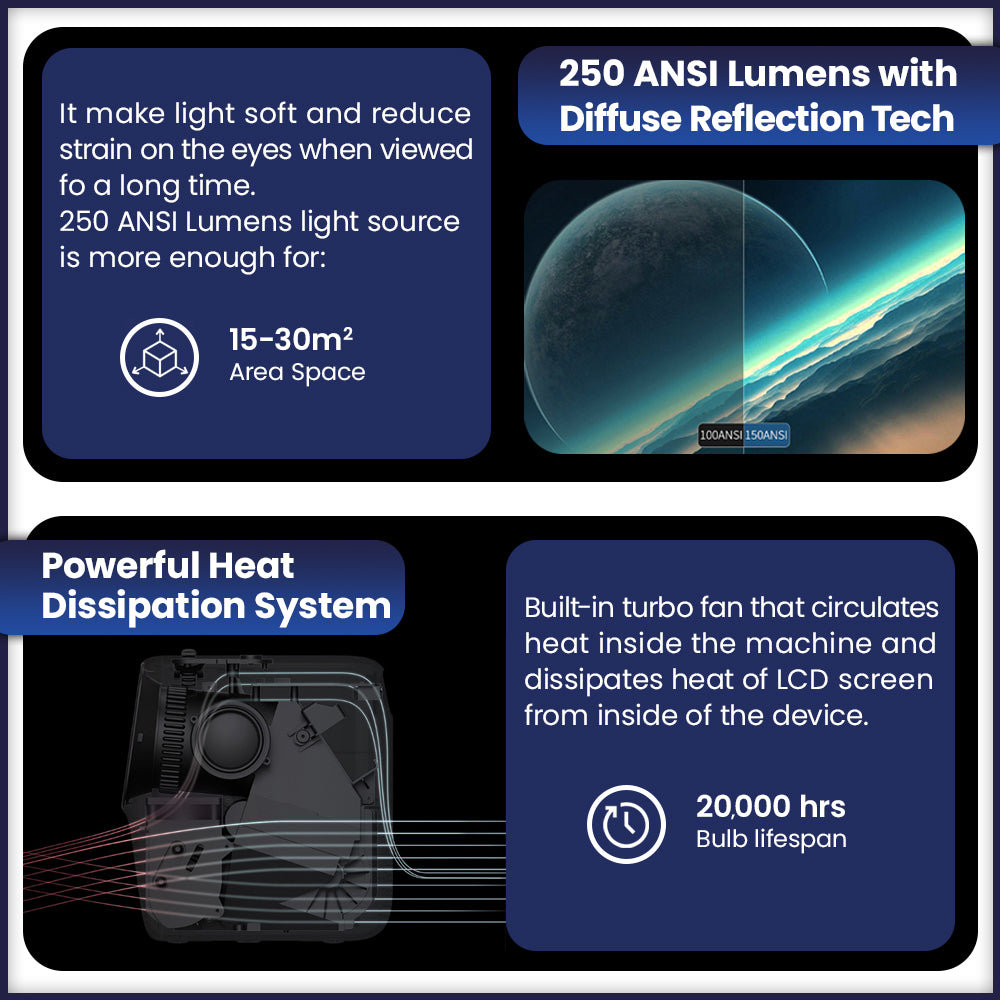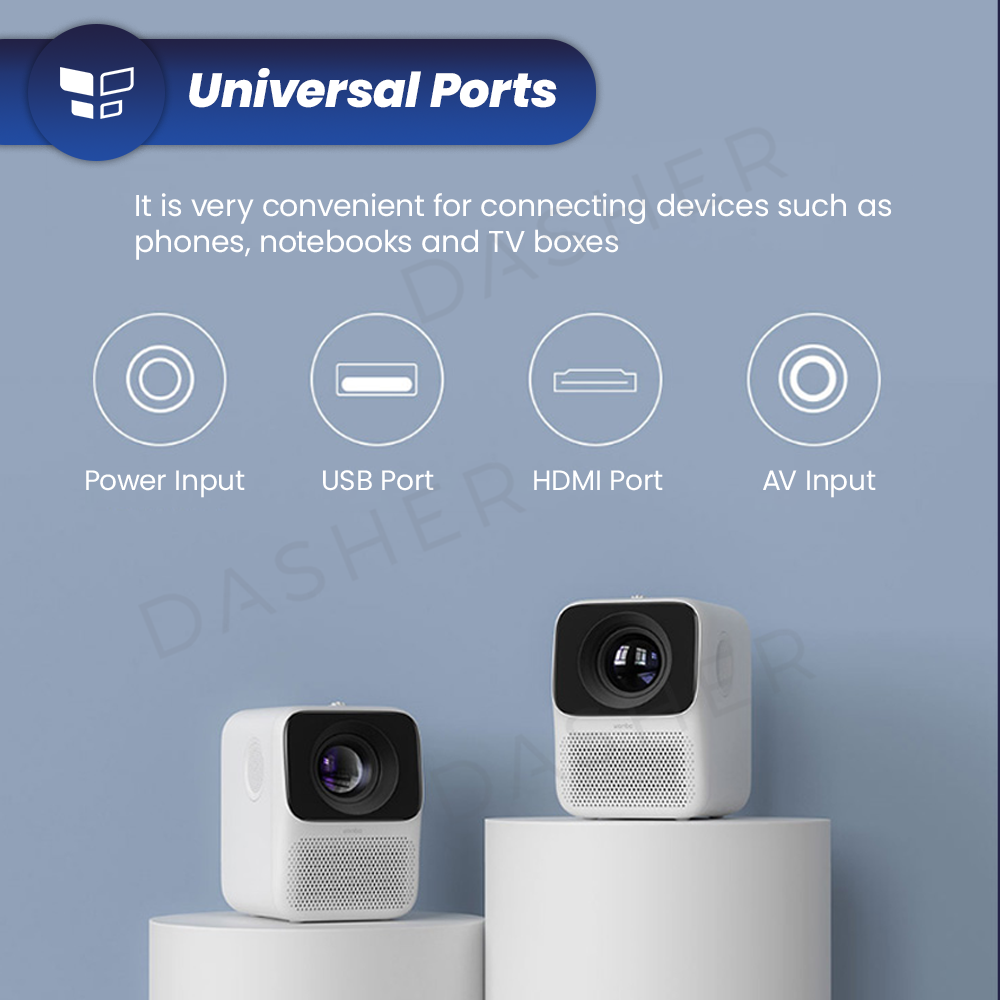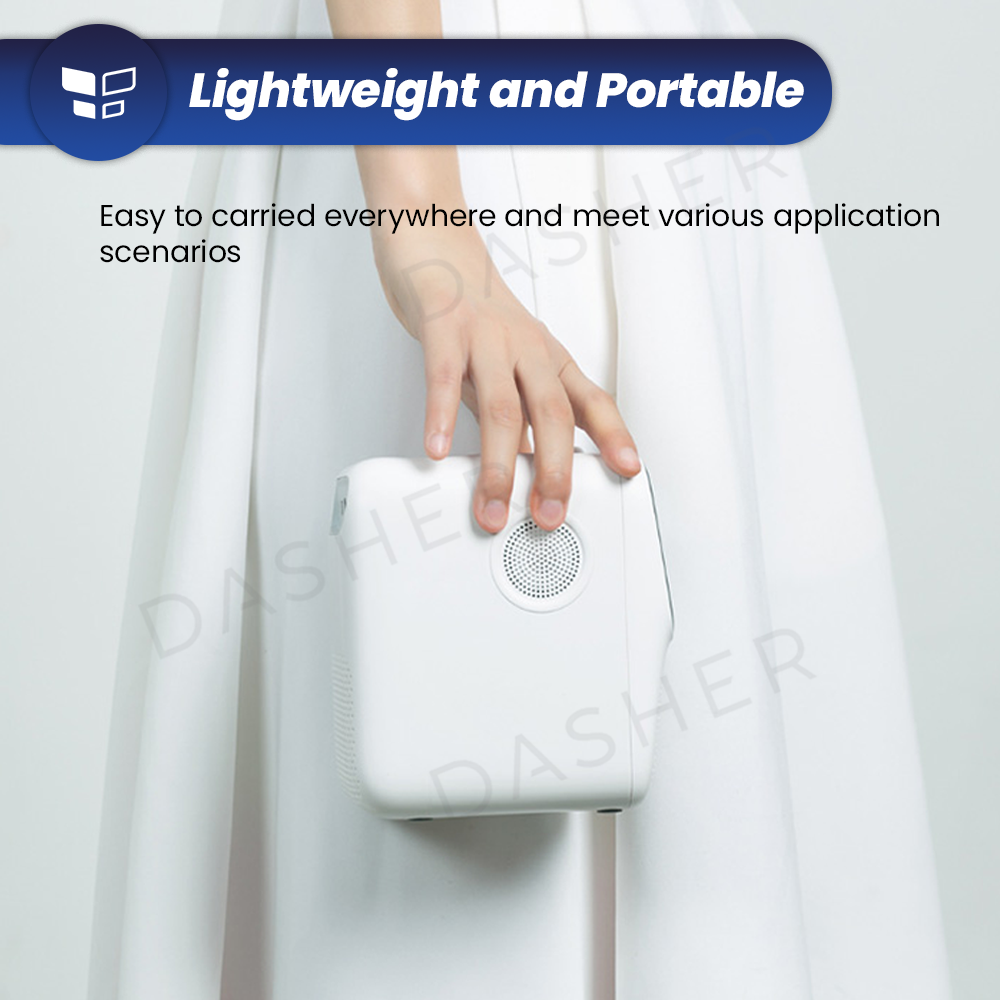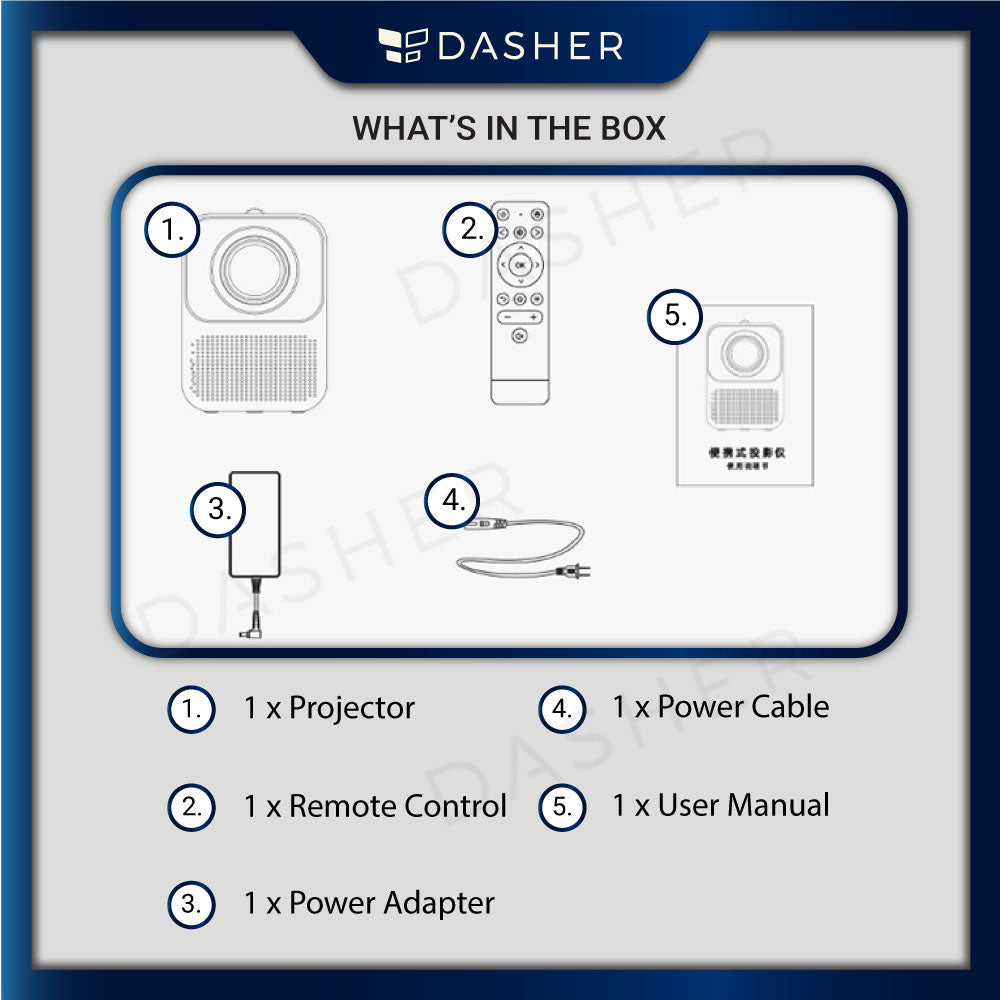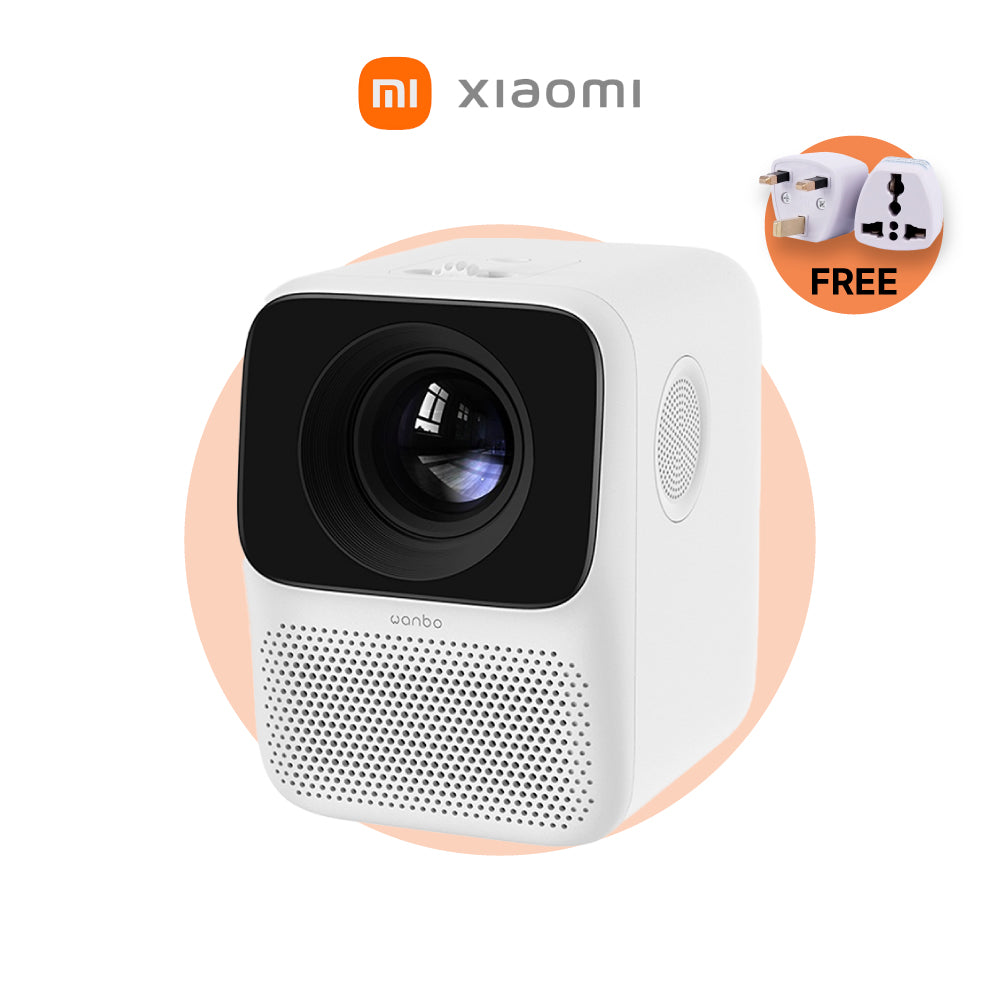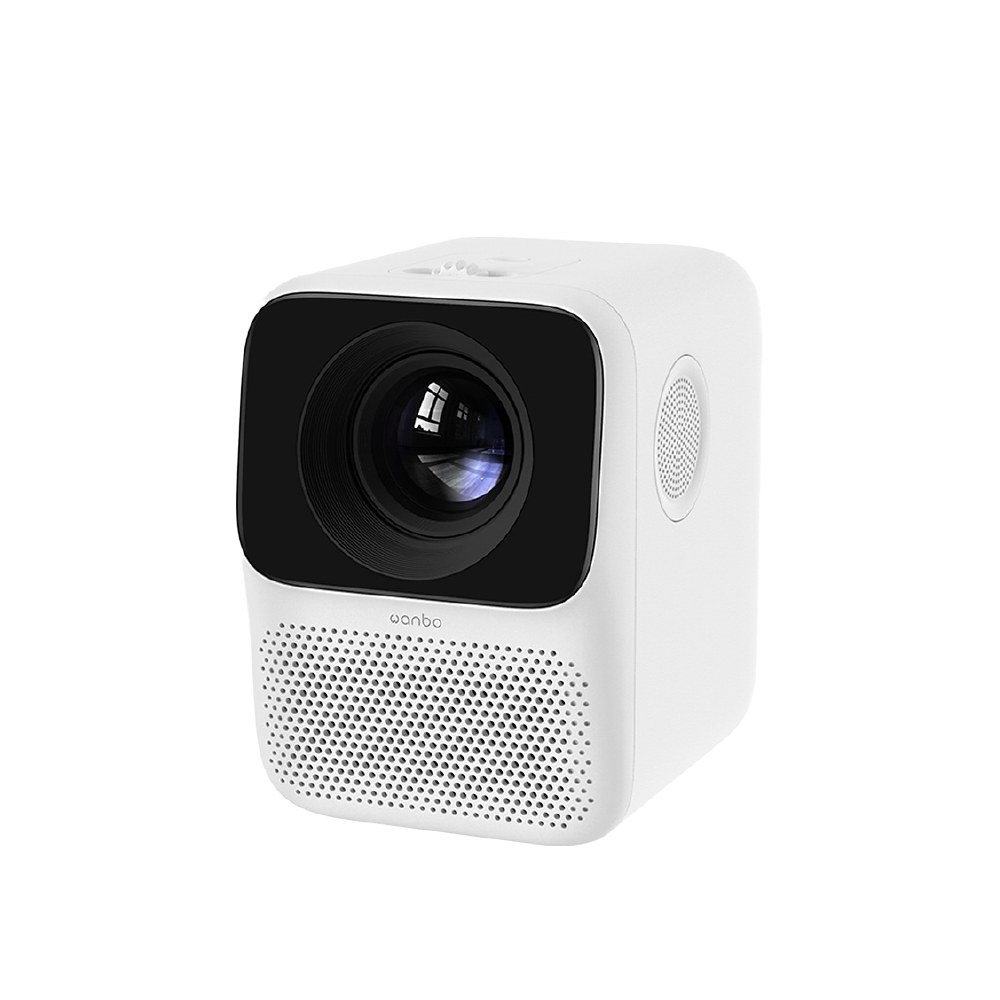 Wanbo T2 Max Projector Mini - Home Cinema
The experience watching blockbusters on TV is not the SAME
Grab Mini Projector Wanbo T2 Max to create your Home Cinema🥰
Marathon Movie, drama yang best2 dengan family tercinta 🤗
HIGHLIGHTS
【Ready Stock + 1 Year Warranty】Ship from Selangor, Malaysia
【Fully Enclosed Optical Machine Technology】 The design can completely eliminate the impact of the build-up of dust on the optical path and thus extend the lifespan projector.
【1.35.1 ratio Projection】 Large Screen which support screen sizes ranging from 40-120 inches from a distance of 1.5-3.0 meters with 1080P Resolution.
【40° Automatic Vertical Keystone Correction】
【2 x 3W Speaker】 Left and right channel speaker give you a 360° audio experience
【250 ANSI Lumens with Diffuse Reflection Technology】 It make light soft and reduce strain on the eyes and 250 ANSI lumen light source that more enough for a 15-30m2 of bedroom or living room.
【20,000 hours Lens Life with Powerful Heat Dissipation System】 Built-in turbo fan that circulates heat inside the machine and dissipates the heat of LCD screen from inside the device.
【Universal ports】 1 * HDMI HD Input / 1 * USB2.0 / 1 * AV Input which is convenient for connecting devices such as notebooks and TV boxes
【Lightweight and Portable】 Easy to carried everywhere and meet various application scenarios

Exclusive for Wanbo T2 Max
【1080P Native Resolution】
【Built in Android System】 Can download a variety of applications like Netflix and Youtube In App Store !
【Sync Your Phone Screen】Screencast your content quickly from your device to the projector.

SPECIFICATIONS
Model: Wanbo T2 Max
Projection technology: LCD
Light source brightness: 250 ANSI lumen light source
Compatible with 4K (T2 Max)
Life of the LED bulb is up to 20,000 hours
Projecting Ratio: 1.35:1
Project on screen sizes: ranging from 40 – 120 inches (1.5 - 3.0 M)
Focusing Method: Manually
Supports ±40° vertical keystone correction
USB 2.0
5V HDMI Cable (to get HD Quality)
Power: 19V 3A
Product Sizes: 11*15*14cm
Product Weights: 0.9kg
Package Sizes: 15*18*16cm
Package Weights: 1.2kg

WHAT'S IN THE BOX
Standard Package: For Wanbo T2 Max Projector Only
1 x Projector
1 x Remote Control
1 x Power Adapter
1 x Power Cable
1 x User Manual

Office Package: For Wanbo T2 Max Projector Only
1 x Projector
1 x Remote Control
1 x Power Adapter
1 x Power Cable
1 x User Manual
1 x Ugreen HDMI cable 1M



Well Packaging and good

Received item in good condition, nice packaging.
The item function well, just unable to adjust size.
The resolution is OK, not as HD but is OK.
Cinema lover

For the price? Cant complain much, 60hz smooth for PS5 although quality is okok la, but good for the price. Built quality niceee
Produk yg berkualiti

Produk yg berkualiti, nilai yang bagus sebanding dgn harga, penghantaran yg pantas, servis yg bagus daripada penjual. Barang semua cukup, terbaik, daebakk, awesome, mantap lagi lagi woohoo yeehaa. Barang ok, servis ok, seller ok semua nya ok lah. Bak kata pepatah china aishiteru wo ai ni pu chi tow!
Good Budget for This

Very fast delivery, reach the next day with well packaging. Good customer service support. Product quality is good with its price. With this price, don compare the resolution with cinema. But the speaker really need to use your own 1 Haha…